For experienced travelers, checking into a hotel is as routine as opening a door. I've worked in the industry as a night auditor for many years. And during those years, I've encountered many situations during check-in.
As a front desk agent, I was trained to see a guest's problem as a "need" and respond to the guest's needs with empathy, discretion, and diligence. However, certain situations can be a bit tougher to resolve.
Can you check into a hotel without an ID?
You will need identification to check into a hotel room. Most hotels will ask for a form of identification along with a credit card unless the room was prepaid. However, a lot of hotels will also accept different forms of identification, not just a driver's license. Of course, you can always luck out and check into a hotel without any ID. However, this would reflect the desk clerk's due diligence (or lack thereof) in following hotel policy rather than industrywide business practice.
Why Do Hotels Ask for Identification?
Hotels require identification for legal reasons.
Ensuring a person is who they claim to help prevent fraudulent activity that can result in chargebacks or legal action against the hotel.
Should something happen to you while staying at a hotel, the hotel needs to identify you positively.
There are also cases where a criminal may seek to use someone's name to rent a room, making it harder for the police to find them.
Asking for ID is a reasonable industrywide practice that protects hotels and society.
What Types of Identification Do Hotels Accept?
Most hotels require a government-issued photo ID at check-in. Types of IDs they accept include Driver's license, Military ID., Health Card, Student ID card, and passport. Many also take travel visas.
Foreign IDs
Most hotels will accept any form of government-issued ID. Now, some folks may run into problems when they present a non-U.S issued ID.
However, these problems have more to do with the hotel clerk's lack of training than the person presenting the ID.
In most cases, foreign identification documents are accepted by most hotels.
However, if you have a reservation, it's always best to call ahead of time and inform the hotel that you will be using a non-U.S-issued ID.
Most folks shouldn't have any problems checking in with a non-U.S-issued ID (even if they are walking in off the street) at major brand hotel chains like Marriott and Hilton.
However, smaller, non-franchised "mom and pop" hotels may give you a more challenging time.
Age Requirements
Hotels often have different policies regarding the minimum age of a guest. Some hotels require that a person be 21 years of age, while others may only need a person to be 18 years of age.
Prepaid Reservations
Most hotels will still ask for identification for prepaid reservations made on such sites as Priceline and Hotels.com. In many cases, you will have to provide a credit card which the hotel will keep on file to cover incidentals.
Frequently Asked Questions About
Checking Into Hotel Without ID
Can I check into a hotel if I Lost My ID?
A common problem people face when checking into a hotel is losing their identification. This often happens when a person loses their purse or wallet. This experience is always stressful and can lead to some pretty heated arguments at the front counter. However, you should keep in mind that the front desk clerk behind the counter might not have experience dealing with your situation. It's always best to be patient and allow them to consult a manager or supervisor. In most cases, a hotel manager or supervisor will decide in your favor and might request other documentation, such as a police report. Another thing a hotel might accept is seeing a paper or digital copy of your ID. However, this would be up to the hotel's management.
Can I check into a hotel with Third-Party Authorization Forms?
Companies and individuals often use third-party authorization forms to check people into hotels. However, these forms only cover the issue of payment. Since the authorization forms involve using other people's money to pay for hotel rooms and services, Hotels are likely to insist on identification. Enforcing this policy makes perfect sense for the hotel since, in many cases, large companies that use third-party authorization forms have contracts with hotels worth thousands of dollars.
Can I use An Expired ID to check into a hotel?
Most hotels will require that you present a current ID. However, as a former clerk, I can tell you that most of the time, we do not look that closely to see whether or not the ID is expired. The main thing I looked for was if the person's image matched who was in front of me and the name. Keep in mind that hotels can get very busy. Clerks often have to deal with the guests standing in front of them and guests phoning the desk for services or to report issues. That said, I would not recommend taking a chance with an expired ID. An astute clerk might catch this, and it could result in the hotel refusing to honor your reservation.


Conclusion
If you have a legitimate reason why you can't present an ID during check-in, it's always best to contact the hotel directly.
The one thing you don't want to do is go to the hotel and argue with the person checking you in.
As a former clerk, I can tell you that if someone gave me a hard time because I was doing my job regarding identification, they would not have gotten their way.
However, if you're a reasonable person and can be diplomatic, most hotels will bend over backward to help you out.
Just keep in mind, if a hotel agrees to let you check in without an ID, they would be doing you a favor — not to mention taking a considerable legal risk.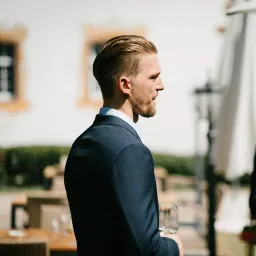 Hey guys! It's me, Marcel. I am the proud owner of carry-on-baggage.com. I am dealing with hand luggage related issues on a daily basis and I own several websites in this niche. Travelling is one of my biggest passions in life and I, therefore, happen to know a thing or two about hand luggage. I hope you all have a safe trip! Take care and thanks for the support. I really appreciate it.