If you've ever been on vacation to anywhere in the tropics, you should know that anything goes. Except, perhaps, freezing weather.
Although come to think of it, the rain can be quite chilly and the wind does blow. Give all that, there is a rather straightforward recipe when it comes to knowing what to pack for a vacation in the tropics.
What to pack for a tropical vacation
There are certain basics that should be packed for any vacation such as toiletries and other personal items, shoes and the obligatory outfit for a night in the town. In the tropics, though, the climate is much hotter, wetter, and more humid than a lot of other places. This means that packing should include wet weather gear, beachwear, and bug repellent, among other clothing and accessories suited to the climate.
The non-negotiable basics
There are certain basics that you must certainly pack for a vacation in the tropics: sunglasses, sunblock, a hat, flip-flops and trainers, a water bottle, your own medication, toiletries, and other personal items. And, of course, a camera (preferably waterproof).
You will also need your phone and charger, a good book, or your electronic reader.
And bug spray. Lots of bug spray.
Be prepared for the weather — and any anomalies
There are basically two types of weather you should pack for when you go to the tropics: sunny, hot, and humid; and cooler, wet and humid.
For the hot, sunny days, take beachwear, including a swimsuit, rash vest, sarong (or other cover-up), shorts, and beach towels.
It will be useful to take two towels because it takes a really long time for anything to dry in the tropics. I suggest taking at least one microfiber towel because it will dry quicker than toweling does.
Don't forget bags to carry your belongings: a beach bag for essentials like sunblock; a wet bag or plastic bag, to get your wet things from the beach to the hotel, or from hotel to hotel; a backpack to take the necessary snacks and your sunglasses when you go out and about.
The inevitable rain in the tropics means you must pack your wet weather gear.
Then, there are the hot, sunny days, so pack some cooler clothing, including vests, shorts, loose dresses (for the women0 and shirts with loose, long sleeves (for the men). The evenings can be cooler, so at least one warm jacket is a good idea.
Don't forget the bug spray
Because of the hot, humid weather in the Tropics, it is an area where mosquitoes breed quite prolifically.
This means that is it very important to take precautions against contracting malaria. Travel medication begins before your trip, so make sure you consult a medical professional or a travel clinic.
It is not only mosquitoes that you need to be prepared for in the tropics, so make sure you also pack bug spray.
Possible places you can visit
What you pack to go to in the tropics must always suit where you go and what you do there. Here are a few options to think about.
Costa Rica
In Costa Rica, you will have the chance to go hiking and camping out, enjoying the spirit of the outdoors.
Make sure that you keep checking the weather forecast so that you can time your camping experience for when it's not going to rain on your parade.
If you are a serious camper, you may want to take some of the more specific equipment, or aids with you.
If you only want to enjoy the camping experience for a night or two, then you will be able to hire the equipment when you are there.
If your passion is sea, sun, and sand, then you will find that in Costa Rica.
Take to the beach, enjoy some time in the sun, swim in the crystal sea and, perhaps, have a go at surfing. You don't need to even think about taking a surfboard with you! They will be there for hire.
There are also plenty of opportunities for doing something different in Costa Rica: take a canal cruise, to slow down your pace of life; or go caving for a little more of an adrenaline rush.
Of course, don't forget your malaria medication when you go to Costa Rica. You don't want any of the little menaces taking advantage of you.
Philippines
Pristine beaches with scads of sun and plenty of water activities to enjoy, that is what the Philippines offers you. Take to the water, jump in a kayak, or try your hand at surfing.
On your quieter days, you can visit the Banaue Rice Terraces, a unique feature in the world; or the Mayon Volcano, which is the world's most symmetrical volcano.
Then there is the Subterranean River National Park, where the limestone karst landscape masks the underground river, which flows directly into the sea.
The Philippines has a low risk of malaria, but you do still need to keep the mosquitoes at bay.
Amazon Basin
There are different places to visit in the Amazon Basin, offering a range of activities in and around the water.
Take a guided hike through the jungle. Then there is swimming and fishing, or even try your hand on a stand-up paddleboard.
Get to know the area better, by visiting a local community, glamping in the wild, or learning about medicinal plants. Then take a trip to see the world completely differently – from above, on a canopy bridge walk.
The Amazon Basin is a malaria area, so be sure to take your malaria medication.
Phuket
Isn't the ultimate image of a vacation in the tropics lying on the beach on a tropical island?
Phuket is just the place for this. You can imagine you're stranded on a desert isle, or just taking a break from exploring the island
Go boating on the ocean, or test our own skill at kayaking. Then there is the rock swing that will give you an adrenaline rush.
When you decide to step out of the sun, you can go shopping, or visit a historical site, like the Great Buddha, or the Wat Chalong Temple.
You can also get up close and personal with the giant of the mammal world at the Elephant Sanctuary.
Conclusion
When you plan a tropical vacation, you should plan for all eventualities when the temperature is guaranteed to be above 70°F (22°C), from a swimsuit to a warm jacket.
And, of course, don't forget the bug spray and mosquito medication.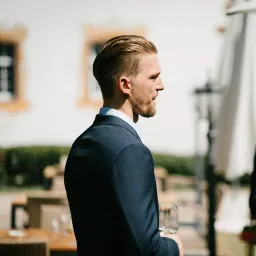 Hey guys! It's me, Marcel. I am the proud owner of carry-on-baggage.com. I am dealing with hand luggage related issues on a daily basis and I own several websites in this niche. Travelling is one of my biggest passions in life and I, therefore, happen to know a thing or two about hand luggage. I hope you all have a safe trip! Take care and thanks for the support. I really appreciate it.