Can you book a flight without a passport? This is a question that many passengers ask before booking their trip.
In this blog post, we will provide an answer to that question and detail what to consider before flying without your passport.
We'll also discuss the various benefits of having a passport on hand when you travel.
Can You Book A Flight Without A Passport?
As long as you are booking a domestic US flight and live in the US you can book a flight without a passport. In some cases, you can even book an international flight without a passport but you will need to know more details for it to remain valid. However, once you leave the US, you will need to have your passport with you.
What Do You Need to Book A Domestic Flight
In order to book a domestic flight as a US citizen, you'll need to provide the airline with your full name, date of birth, gender, and contact information.
You'll have to have some form of valid ID whether that be government-issued or a driver's license.
These documents help the airlines to understand who is going on and coming off specific flights.
If they ever need to track an individual they have a clear record of where they came from and where they're headed to.
You won't need a passport to book a domestic flight, although, a passport would count as a valid ID to book a flight.
What Do You Need to Book An International Flight
To book an international flight you'll need all of the same documents as you would for a domestic flight.
A passport is only needed, aside from the documents mentioned earlier, to leave and enter the United States. Now, that doesn't mean you need a passport to book your flight.
It is possible for some airlines to forgo entering your passport number while booking your flight and then presenting that number at a later time.
Not all companies allow this though and to prevent your flight from being canceled you'll want to have a passport number readily available.
If you don't have a passport then you'll need to apply and receive one before booking your international flight.
You can apply for a passport through the US Department of State and will need to schedule an in-person visit to take your picture.
The application process can take up to six weeks so make sure to apply for your passport well in advance of booking your flight.
What If You Don't Have Your Passport While Booking A Flight?
If you don't have a passport while booking a flight there are some recommendations you can use.
For starters, you can try to enter all zeros in the area where the passport number is expected.
For some flyers, this shortcut has worked but you'll still need to add a passport number at some point before the flight so the tickets don't get canceled.
Another option is to apply for an emergency passport and pay all the necessary fees.
An emergency passport is only valid for a year but it will allow you to book your flight and take care of everything else once you have the physical passport in hand.
You could also call up the airline and see if they'll let you purchase the flight ahead of time while you are waiting to get your passport.
Benefits of Having a Passport For Flying
There are a few other benefits to having a passport when you travel internationally.
A passport will allow you to have more security over your flight instead of wondering if everything will work out.
The passport allows you to immediately book your flight without having to wait till a later time or book it and then wait to give your number.
A passport will also give you the ability to get a visa if needed for your destination country.
There are many countries that you can travel to without a visa but there are still some that require one.
It's always best to check with the embassy of your destination country to see if you need a visa before traveling.
You can apply for the visa and attach it to your passport once the latter's ready.
This will save you time from having to apply for a visa when you arrive at your destination country.
Will Domestic Flights Ever Ask For A Passport?
If you are from the US and flying domestically you should never be required to have a passport in order to travel.
The only time you'll be asked for a passport is if you have no other form of ID, then an airline would be correct to ask for a passport. The passport would be the only valid form of ID you would have.
As long as you have a driver's license or a government-issued ID, you don't need your passport while you are traveling domestically.
If you are flying domestically in another country and you're a US citizen, you won't be asked to present your passport.
In most cases, you will need some kind of tourist card in order to fly domestically but this isn't required in all countries.
Not having a passport in another country could cause you to be detained or fined.
Frequently Asked Questions about Booking a Flight Without a Passport
What happens if you travel without a passport?
If you are caught traveling without a passport, you may be subject to a fine or could even be detained. When you travel internationally, you should always have a passport as it is the most secure form of identification.
What's the fastest method of getting a passport?
The fastest way to get a passport is to apply for an expedited passport through the US Department of State. You will need to pay an extra fee but your passport will be processed in as little as two weeks.
Can a flight be canceled because I don't have my passport?
Airlines are able to cancel your flight if you don't have a passport. Ensure you've got all the necessary documents before you book a flight. As for getting refunded, it depends entirely on the airport.


Afterword: Booking Flights Without A Passport
Not every flight is going to require a passport but it's always best to have one just in case.
You can't expect to travel internationally without a passport but all domestic flights will allow you to go on without a problem.
You can book internationally without a passport but it's much less common.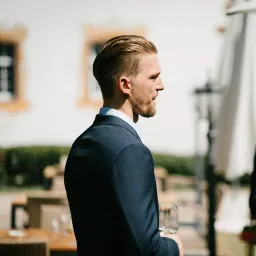 Hey guys! It's me, Marcel. I am the proud owner of carry-on-baggage.com. I am dealing with hand luggage related issues on a daily basis and I own several websites in this niche. Travelling is one of my biggest passions in life and I, therefore, happen to know a thing or two about hand luggage. I hope you all have a safe trip! Take care and thanks for the support. I really appreciate it.