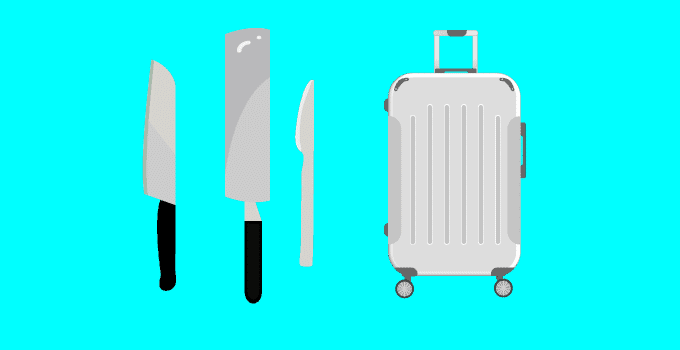 Is it permitted to take kitchen knives in checked luggage?
It is generally permitted to take kitchen knives with you in your suitcase. This applies both to travel in the EU and in/to the US. Kitchen knives should be kept in a closed container inside the suitcase so that security personnel cannot injure themselves during any inspection. There are no quantity restrictions for kitchen knives in checked luggage and there are no restrictions on the length of the blades.
Is it allowed to transport kitchen knives in checked luggage in the US?
Kitchen knives are also allowed in checked luggage in the US. As always, we can find the relevant information at the American Transport Security Agency (TSA): Knives in checked luggage in the USA.
Here, too, it is pointed out that you must ensure that the knives are securely packed during transport so that the security forces cannot injure themselves:
Any sharp objects in checked bags should be sheathed or securely wrapped to prevent injury to baggage handlers and inspectors.
How to pack a knife in checked luggage
The three most important aspects when transporting kitchen knives in a suitcase are:
The kitchen knife should have as little room as possible in the case; its own movement should be prevented as far as possible.
The tip and the cutting edge of the knife should be secured so that the kitchen knife cannot have a cutting or stabbing effect even when the case is being taken care of.
When checking your suitcase, there must be no risk of injury to security personnel. The observance & implementation of the first two points (aspects) should be sufficient to guarantee this! Moreover, it is a good idea to label the knife container as such (something along the lines: Attention: Sharp Kitchen Knives inside!)
A good way to meet these conditions and safely store knives in a suitcase is to purchase a bag for cook's and kitchen knives. On Amazon you find several such knife bags & cases
In any case, the knives should be kept in a sturdy closed container during transport!
Which knives are considered kitchen knives?
Knives are always judged and classified according to their intended use. Kitchen knives are knives that are used to process food.
However, as far as the processing of food is concerned, kitchen knives are also further subdivided into different types. Here is a small list of the most common types:
all-purpose knife
bread knife
filleting knife
vegetable knife
cheese knife
chef's knife (also known as cooking knife/cook's knife)
carving knife
All these knives are kitchen knives and all these knives are generally permitted in checked luggage. Depending on the type of knife, there are considerable differences in blade length and shape. But even in this respect, there are no restrictions for kitchen knives in checked luggage.
Sale
Bestseller No. 1
Bestseller No. 2
D.Perlla Knife Set, 14 Pieces Kitchen Knives Set with Self Sharpening Wooden Block, German Stainless Steel Knife Block Set with Steak Knives, Black
The All-Purpose Knife Set: The classic-looking set includes the most useful knives for home-kitchen use, 8" chef knife, 8" slicing knife, 8" bread knife, 7" santoku knife, 5" utility knife, 3.5" paring knife, 6* 4.5" steak knives, plus pull-apart kitchen shears and a self sharpening storage block.
Sale
Bestseller No. 3
Do I have to register the transport of kitchen knives with the airline?
No, as a rule, it is not necessary to register the transport of kitchen knives with the airline.
However, early registration with the airline is sometimes necessary for other items:
The transport of animals must be notified in advance to the vast majority of airlines.
The carriage of musical instruments also has to be announced in advance to many airlines, especially if they are very large instruments (harp, double bass, etc.).
Gas cylinders with gaseous oxygen or gaseous air for medical purposes
Heat-generating devices such as underwater lamps with high luminosity
However, there are many more items which demand the approval of the operator (airline). Please have a look at the Dangerous Goods Regulations Table as provided by the IATA for a more complete picture of this topic.
Are kitchen knives allowed in hand luggage?
Clearly no. You cannot carry kitchen knives in your hand luggage.
Even cutlery, especially knives, is generally not tolerated in hand luggage.
There is a rule in the EU which states that knives with a blade length of up to 6 cm are permitted in hand luggage. On the one hand the blade length of kitchen knives is almost always longer than 6 cm and on the other hand even knives with a blade length of < 6 cm (The classic: A small Swiss pocket knife) are often collected at the security checkpoint.
Therefore, it is best to do without any kind of knife in your hand luggage.
Related Questions
Is there a limitation in terms of blade length for kitchen knives in checked luggage?
No. Both a smaller kitchen knife with a 13 cm long blade and a large chef's knife with a 23 cm blade can be transported in checked luggage. In any case, make sure that you transport the knives in a closed container (must be in luggage!). The knives should have as little leeway as possible!
Can knives other than kitchen knives and chef's knives also be transported in checked luggage?
Basically yes, but not every knife can be transported. Important questions in this context are: Is it a knife that is classified as a weapon according to the Weapons Act? Is the type of knife legal in the country of destination? The rules and regulations vary from country to country. Some knives, such as butterfly knives or fist knives, are forbidden in practically every country and may therefore not be transported under any circumstances (both in checked and hand luggage of course).
Hey guys! It's me, Marcel. I am the proud owner of carry-on-baggage.com. I am dealing with hand luggage related issues on a daily basis and I own several websites in this niche. Travelling is one of my biggest passions in life and I, therefore, happen to know a thing or two about hand luggage. I hope you all have a safe trip! Take care and thanks for the support. I really appreciate it.