Transavia is a Dutch low-cost airline and a wholly-owned subsidiary of KLM and therefore part of the Air France-KLM group flying to 110 destinations primarily in Europe and Northern Africa.
Transavia has 50 years of experience as a low-cost airline in Europe and carries 11 million passengers a year. Transavia offers a basic price for both leisure and business flights from its seven hubs in three European markets; the Netherlands (Amsterdam, Rotterdam/The Hague, Eindhoven), and France (Paris, Nantes and Lyon) as well as from Munich in Germany.
Like other budget airlines that rely on sales from added extras, Transavia offers drinks and food to purchase on board and the option to purchase hand luggage and hold luggage.
But just how strict is Transavia with their hand luggage policy?
Are they, like other budget airlines quite restrictive on how much passengers can bring on board?
Transavia passengers are allowed to bring on board one piece of hand luggage of up to 10kg in weight. Up to 10 kg
Max. dimensions 45 x 40 x 25 cm (green label)
Max. dimensions 55 x 40 x 25 cm (red label)
At check-in or at the gate, hand luggage is said to be weighed and measured to ensure that it is within the guidelines and that passengers only carry one piece of hand luggage per person. Hand luggage is marked with either a green or red label depending on the size above.
Luggage with a green label is always allowed in the cabin during a flight. This luggage needs to be stowed under the seat in front of you.
On busy flights, Transavia may collect luggage with a red label at the gate and transport this luggage (free of charge) in the hold.
So, how strict is Transavia with Hand Luggage?
Compared to other European budget airlines, Transavia has quite a generous hand luggage policy, allowing passengers to take more hand luggage than even some of the major non-budget airlines for free.
Some Transavia staff are stricter than others at different airports.
For example, the Transavia staff in Paris has been found to be quite relaxed in checking the number of pieces, weight and size of hand luggage whereas in Iceland they have been stricter about this.
Usually, if the flight is busy, there will be strict checks enforced and the first 70 passengers who will have the ability to take their larger cabin luggage into the cabin.
The rest of the passengers usually will have their hand luggage checked into the hold. Be aware that small handbags, laptops and backpacks also count towards the hand luggage policy therefore if you have extra hand luggage, make sure that you are able to fit these small pieces inside.
If your hand luggage is too big or too heavy, Transavia will transport it in the hold. You will then pay a surcharge of at least €40.
If you want to bring a larger piece of hand luggage, such as a musical instrument (max. 110 x 45 x 60 cm) then you have to book an extra seat.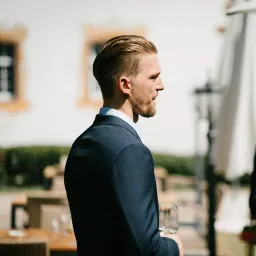 Hey guys! It's me, Marcel. I am the proud owner of carry-on-baggage.com. I am dealing with hand luggage related issues on a daily basis and I own several websites in this niche. Travelling is one of my biggest passions in life and I, therefore, happen to know a thing or two about hand luggage. I hope you all have a safe trip! Take care and thanks for the support. I really appreciate it.